On April 4, 2017, RedHill Biopharma Ltd (NASDAQ: RDHL) reported that the
U.S. FDA granted
YELIVA® Orphan Drug (OD) designation for the treatment of cholangiocarcinoma. Cholangiocarcinoma (bile duct cancer) is a rare malignancy that affects roughly 8,000 individuals in the U.S. each year (
1
). Survival rates are highly dependent on location and stage of disease, but it is clear that there are limited treatment options for these patients. By winning OD designation for YELIVA, RedHill will benefit from various development incentives, including tax credits, a waiver of PDUFA fees, and guaranteed seven years of market exclusivity post approval.
A Little About Cholangiocarcinoma
Cholangiocarcinoma is a malignancy of the bile ducts. The bile ducts are a series of thin tubes that reach from the liver to the small intestine. The major function of the bile ducts is to move a fluid called bile from the liver and gallbladder to the small intestine, where it helps digest the fats in food. Cancers can develop in any part of the bile duct system and, based on their location, are classified as:
- Extrahepatic cholangiocarcinoma. The part of the bile duct that is located outside of the liver is called extrahepatic. This location is where cancer most commonly is found. It tends to be the most treatable form of the disease.
- Hilar cholangiocarcinoma. Another relatively common site for bile duct cancer is the point where the right and left hepatic ducts join. A tumor that starts in this area is also sometimes called a Klatskin's tumor.
- Intrahepatic cholangiocarcinoma. About 5% to 10% of bile duct cancers are intrahepatic. These are located inside the liver.
Cholangiocarcinoma is a rare disease. In the U.S., only an estimated 8,000 people each year develop bile duct cancer. Risk factors include ulcerative colitis, gallstones, primary sclerosing cholangitis, choledochal cyst, Caroli syndrome, and liver cirrhosis. The disease is far more common in Asia and the Middle East where a parasite called a liver fluke can infect the bile duct and cause cancer (
2
).
The survival rate for cholangiocarcinoma is heavily dependent on the location of the tumor and stage of disease at diagnosis. The 5-year survival rate for people with early-stage extrahepatic bile duct cancer is 30%. If the cancer has spread to the regional lymph nodes, the 5-year survival rate drops to 24%, and if the cancer has spread to a distant part of the body, the 5-year survival rate is an abysmal 2%. Survival rates for intrahepatic bile duct cancer are even lower. It is 15% for an early-stage disease but drops to 6% once the cancer spreads to the regional lymph nodes and only 2% if found in a distant part of the body (
3
).
Treatment for cholangiocarcinoma is multidisciplinary and includes surgery, radiation, chemotherapy, targeted drug therapy, and palliative care. Surgical removal of the bile duct, and potentially the surrounding lymph nodes and liver, can be curative. The American Society of Clinical Oncologists (ASCO) recommends the combination of cisplatin and gemcitabine as first-line therapy, followed by fluorouracil, capecitabine, and paclitaxel as second-line options. Unfortunately, bile duct cancers are resistant to many chemotherapy types (
4
).
Several small pharmaceutical companies are working on treatment options for cholangiocarcinoma. In July 2015, the U.S. FDA granted Delcath Systems OD designation for Melphalan/HDS for intrahepatic cholangiocarcinoma (
5
). Melphalan/HDS is a combination drug/device that delivers high doses of chemotherapy to the liver. A month later, in August 2015, the U.S. FDA granted OD designation to ASLAN Pharmaceuticals' varlitinib, a small molecule reversible pan-HER inhibitor of EGFR (
6
). In December 2015, ArQule, Inc. won OD designation for ARQ087 in cholangiocarcinoma. ARQ 087 is a multi-kinase inhibitor designed to preferentially inhibit the fibroblast growth receptor (FGFR) family (
7
). In early January 2017, Senhwa Biosciences, Inc. won OD designation for CX4945, a novel small molecule drug that inhibits protein kinase CK2 (
8
).
A Little Background On YELIVA
RedHill acquired exclusive worldwide rights to ABC294640 (now branded as YELIVA®) in March 2015 from privately-held Apogee Biotechnology Corp. of Hershey, Pennsylvania. YELIVA is an orally available, small molecule inhibitor of sphingosine kinase-2 (SK2). SK2 is a conserved lipid kinase that catalyzes the phosphorylation of sphingosine to form sphingosine 1-phosphate (S1P), a lipid second messenger with substantial implications in cell proliferation, cell migration, and inflammation (
9
). It is a critical mediator of apoptosis through both autocrine and paracrine manners (
10
,
11
). Specifically, S1P binds to several unique receptors to act on a number of biological functions, including mediation of pro-inflammatory cytokines such as TNFα and IL-1.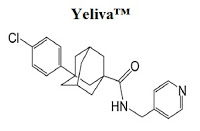 S1P is upregulated in inflammation and certain types of cancer. Aberrant S1P signaling can lead to cell proliferation, migration, drug resistance, angiogenesis, lymphangiogenesis, and inflammation (
12
). Altered upregulation of S1P can also lead to immune cell trafficking and suppression of T cell proliferation and cytokine production (
13
). Over-expression of S1P decreases CD4 T cell generation and Th2 and Th17 response (
14
). By inhibiting the SK2 enzyme, YELIVA blocks the synthesis of S1P, potentially down-regulating cell over-proliferation and inflammation, and offering therapeutic utility for the treatment of certain types of cancer, inflammatory diseases, and beyond (
15
).
YELIVA is a first-in-class, new chemical entity. Preliminary evidence suggests that because of its specificity for targeting SK2, rather than SK1, the drug may have a better therapeutic ratio than nonspecific sphingosine kinase inhibitors or those targeting only SK1. Because of this, Apogee was able to receive significant grant funding on ABC294640 prior to the licensing agreement with RedHill Biopharma. For example, cumulative funding totaling $14 million to support the development of the drug has been awarded, primarily through grants and contracts from U.S. federal and state government agencies such as the NIH Small Business Innovation Research/Small Business Technology Transfer (SBIR/STTR) program, the National Cancer Institute (NCI), the U.S. Department of Health and Human Services' Biomedical Advanced Research and Development Authority (BARDA), the Department of Defense (DOD), the FDA Office of Orphan Products Development (OOPD), and the Pennsylvania Department of Health.
Since the initial licensing agreement with Apogee, development of the drug has continued through these non-dilutive sources of capital. For example, in September 2015, RedHill announced the U.S. National Cancer Institute awarded Duke University Medical Center a $2 million grant to study YELIVA in a Phase 2 clinical trial for multiple myeloma (
see release
) and in October 2015, the NCI awarded Apogee a $225,000 SBIR grant to support continued preclinical work of YELIVA for the treatment of prostate cancer (
see release
).
YELIVA for Cholangiocarcinoma
On June 21, 2016, RedHill released full results from the company's Phase 1 clinical trial with YELIVA for the treatment of patients with advanced solid tumors (
see release
). A total of 21 patients with advanced solid tumors were enrolled in the Phase 1 trial, including three with cholangiocarcinoma. The study took place at the Medical University of South Carolina (MUSC) and was supported by grants from the U.S. National Cancer Institute (NCI) and from the U.S. FDA's Office of Orphan Products Development.
RECIST 1.1 data was available for 16 of the 21 subjects. Results show one subject with partial response and six with stable disease. Of the three patients with cholangiocarcinoma, all of whom has prior therapy, one subject achieved a sustained partial response (OS = 20.3 months), and the other two subjects had prolonged stable disease (OS = 17.6 and 16.3 months). The most common side effects were fatigue and nausea. PK/PD data showed administration of YELIVA resulted in a rapid and pronounced decrease in sphingosine 1-phosphate (S1P) levels over the first 12 hours, with a return to baseline at 24 hours, which is consistent with the clearance of the drug.
Next Steps For YELIVA
RedHill plans to initiate a Phase 2 clinical study with YELIVA in patients with advanced, unresectable,
intrahepatic and extrahepatic cholangiocarcinoma
in the third quarter of 2017. The single-arm study will evaluate YELIVA as a single agent in cholangiocarcinoma patients with a primary endpoint of determining the response rate.
A separate Phase 2 study (
NCT02939807
) with YELIVA for the treatment of
advanced hepatocellular carcinoma (HCC)
is ongoing at MUSC Hollings Cancer Center. That study is supported by a $1.8 million grant from the NCI, awarded to MUSC, which is intended to fund a broad range of studies on the feasibility of targeting sphingolipid metabolism for the treatment of a variety of solid tumor cancers.
RedHill is also recruiting patients for a Phase 1/2 clinical study (
NCT02229981
) with YELIVA for refractory or relapsed
Diffuse Large B-cell Lymphoma
(DLBCL) as well as
Kaposi sarcoma
. Funding from this program is being supported by a $1.5 million NIH SBIR/STTR grant to Apogee in conjunction with the Louisiana State University Health Science Center (LSUHSC). Over-expression of S1P is quite common in patients with DLBCL. A team of researchers out of Japan found S1PR1 over-expression in 15.7% of all cases with DLBCL and over half of the cases with primary testicular (PT)-DLBCL (
16
). The potential to improve response to Rituxan® represents an exciting path forward for YELIVA in this indication. Estimated target enrollment is 33 patients with DLBCL, with the primary analysis focusing on the tolerability of the drug. Secondary evaluations will focus on the preliminary signs of efficacy. The trial is expected to complete in 2017.
A Phase 1/2 study (
NCT02757326
) of YELIVA for the treatment of refractory or relapsed
Multiple Myeloma
(rrMM) is also ongoing at Duke University Medical Center and is supported by a $2 million grant awarded to Apogee, in conjunction with Duke University. SK2 is over-expressed in myeloma cells and contributes to myeloma cell survival and proliferation. Data published by MUSC in
Blood
in 2014 shows that inhibition of SK2 by YELIVA effectively inhibited myeloma cell proliferation and induced caspase 3–mediated apoptosis (
17
). The mechanism of action is down-regulation of c-Myc and Mcl-1, and that there may be a synergistic benefit to combination with a Bcl-2 inhibitor, such as venetoclax (Venclextra™).
Rounding out RedHill's aggressive development plans with the drug, Phase 1b study to evaluate YELIVA as a radioprotectant for prevention of mucositis in head and neck cancer patients undergoing therapeutic radiotherapy is planned to be initiated in the third quarter of 2017; and, a Phase 2 study to evaluate the efficacy of YELIVA in patients with moderate to severe ulcerative colitis (UC) is planned to be initiated in the second half of 2017.
Conclusion
Initial clinical funding to date for YELIVA has been through non-dilutive grants and awards to partners and universities. OD designation strengthens RedHill's aggressive development plans for YELIVA because the company can now effectively rely on tax credits and reduce regulatory fees to further increase the ROI. I ultimately believe that RedHill will look to partner YELIVA for Phase 3 development, and RedHill is certainly well-funded today with $66 million on hand as of December 2016, but every bit of financial assistance helps.
I found over a dozen proof-of-concept results in numerous solid tumor and hematological indications. I'm not aware of any other company working on an SK2 inhibitor (per FactSet, 2016), a mechanism that seems to offer potential synergy with chemotherapies paclitaxel, docetaxel, 5-FU, and cisplatin, along with targeted therapies, including Rituxan®. I think this is a mechanism that should ben of great interest to big pharma and OD designation protects the market for a minimum of seven years post-approval. This is something potential pharmaceutical partners want to see before licensing a drug for Phase 3 development.
The initiation of the Phase 2 HCC study is quite interesting because researchers out of MUSC published data in 2011 showing the antitumor effects of YELIVA combined with the multikinase inhibitor, Nexavar® (sorafenib), in mouse models of hepatocellular carcinoma xenografts (
18
). New data just recently published in
Oncotarget
show synergistic effects between YELIVA and sorafenib in preclinical models of cholangiocarcinoma (
19
).
RedHill obviously has a lot going on with its pipeline beyond YELIVA. RHB-104, RHB-105, and Bekinda are all in Phase 3 clinical trials; however, I think YELIVA could start to become a major driver for the shares in the coming quarters as data from many of the enrolling clinical trials read out. It is not often an oral anti-cancer agent such as YELIVA has so much potential and synergistic opportunity with other agents. I'm pleased to see the U.S. FDA grant OD designation to the drug and believe that RedHill shares are incredibly attractive at today's price.
-------------------
BioNap is party to a services agreement with the company that is the subject of this report pursuant to which BioNap is paid twenty-five hundred dollars per month by the company in exchange for the provision of research reports, investor relations services, and general consulting services. Please see additional information on our Disclaimer.
BioNap holds no position in shares of any stock mentioned above.