On February 13, 2017, RedHill Biopharma Ltd. (NASDAQ: RDHL)
announced
that the final patient has been enrolled in the company's Phase 3 clinical study examining BEKINDA® as a treatment for acute gastroenteritis and gastritis. Top-line data from the Phase 3 study, known as the
GUARD
study, are expected in the second quarter 2017. A separate Phase 2 study with BEKINDA for the treatment of diarrhea-predominant irritable bowel syndrome (IBS-D) is also ongoing, with top-line data expected around the middle of the year.
Below is a quick review of BEKINDA and what to expect with the upcoming Phase 3 data.
The Phase 3 GUARD Study
The
Phase 3 GUARD
study is randomized, placebo-controlled, registration study designed to compare BEKINDA to placebo in 320 patients age 12 to 85 years old with acute gastroenteritis or gastritis that have presented to an emergency center and have vomited at least twice in the four hours preceding consent into the study. The primary endpoint is the proportion of patients without vomiting and without rescue medication from 30 minutes post dose over the subsequent 24 hours. With the last patient now enrolled, top-line data are expected early in the second quarter 2017.
Gastroenteritis (inflammation of the stomach and small intestine) and gastritis (inflammation of the stomach) are often simply referred to as "stomach bug." The primary symptoms are vomiting and diarrhea, both of which can lead to additional symptoms, including abdominal pain and dehydration. The two most common culprits of gastroenteritis are the rotavirus and norovirus. Other viruses that may cause gastroenteritis are the astrovirus, sapovirus, and enteric adenovirus. Gastroenteritis can also be caused by bacterial or parasitic infection, in which case symptoms will also likely include low-grade fever and muscle ache, with the most common pathogens being enterotoxigenic
E. Coli
,
Clostridium difficile
, salmonella, and giardia.
Antibiotics help combat gastroenteritis due to some bacterial infection, but there are no approved treatment options for viral gastroenteritis. In most cases, gastroenteritis is self-limiting. The main complication is severe dehydration and most physicians simply recommend drinking plenty of fluids. However, the U.S. Center for Disease Control and Prevention estimates gastroenteritis results in approximately 65,000 hospitalizations and 900,000 clinic visits in the industrialized world per year. The primary way to prevent severe dehydration is to prevent the vomiting and diarrhea that result from the bacterial, viral, or parasitic infection.
For instance, patients presenting to a physician's office or emergency room with severe vomiting or diarrhea are often given generic ondansetron off-label. In fact, a 2006 study found that 61% of physicians administer antiemetics to patients presenting to a clinic or emergency department with acute gastroenteritis (
4
). With an FDA approved indication for acute gastroenteritis, BEKINDA could see use at or above the level of the off-label generic.
The efficacy of ondansetron in preventing vomiting in patients with gastroenteritis has been well documented. For example, a study published in the
New England Journal of Medicine
, looked at 215 children age six months to 10 years old presenting to a pediatric emergency department with gastroenteritis and dehydration, and randomized half to ondansetron and the other half to placebo. The investigators found that children randomized to ondansetron were less likely to vomit, 14% vs. 35% (40% relative risk reduction), vomit less often, 0.18 vs. 0.65 episodes per child (p<0.001), and be less likely to require intravenous rehydration, 14% vs. 31% (46% RRR), than children on placebo (
5
).
Approximately 30 million children in the U.S. develop acute gastroenteritis every year. Of these, 3 million seek evaluation by physicians, and a large number of these patients are treated in emergency departments (EDs). A study conducted at Children's Hospital Boston enrolled 172 patients (average age 5.3 years), randomizing 54 to ondansetron and 53 to placebo. After drug administration, 38 (70%) of the 54 patients in the ondansetron group had complete cessation of vomiting compared with only 27 (51%) of the 53 patients in the placebo group (61% RRR) (
6
).
A Good Chance At Success
The GUARD study is a 1:1 randomized trial in 320 patients. My search of PubMed suggests a 42% ± 7% chance a patient in the placebo group will have vomiting, and that the BEKINDA group should come in only around 22% ± 8%. Assuming 80% power to detect a statistical difference among the two groups, I see the GUARD study as highly likely to achieve its primary endpoint. Below is a snapshot of two statistical analysis graphs I created by inputting the above variables showing (A) GUARD is over 95% powered at current enrollment and (B) statistical significance at p<0.05 is highly likely based on a range of inputs for proportions using data pulled from the literature.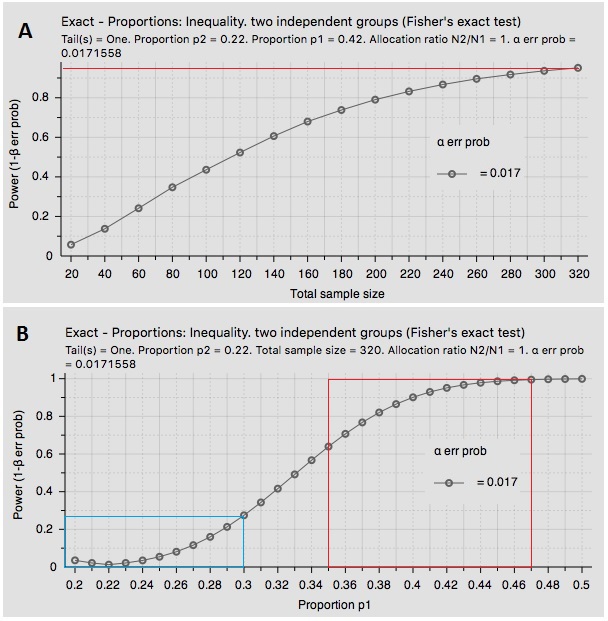 Conclusion
BEKINDA looks to have very interesting market potential for the treatment of some common gastrointestinal disorders, including gastroenteritis and gastritis. As noted above, a separate Phase 2 study in irritable bowel syndrome with diarrhea (IBS-D) is also ongoing with data expected around the middle of the year. I'll have a separate analysis of that program for investors when we get closer to the top-line data.
Gastroenteritis affects an enormous number of Americans each year. In 2013, the U.S. CDC estimated 21 million people in the U.S. get infected with norovirus and develop acute gastroenteritis each year. The norovirus alone accounted for 14,000 hospitalizations, 281,000 ER visits, and 627,000 outpatient visits between 2009 and 2010. And although the norovirus is the number one cause of acute gastroenteritis in the U.S., it still only accounts for 21% of the cases (
7
). Doing the math, one can back-calculate that there are likely 100 million episodes of acute gastroenteritis in the U.S. each year.
Management has previously announced that they believe the Phase 3 GUARD study may be sufficient to support a potential marketing application in the U.S. Of course, this is dependent upon strong data and further guidance from the FDA. That makes the pending Phase 3 data an important catalyst to watch for RedHill investors in the next few months.With modest pricing and good formulary coverage, BEKINDA looks like a $250 million opportunity in the U.S., with another $200 million for Europe once approved.
------
BioNap is party to a services agreement with the company that is the subject of this report pursuant to which BioNap is paid twenty-five hundred dollars per month by the company in exchange for the provision of research reports, investor relations services, and general consulting services. Please see additional information on our Disclaimer.
BioNap holds no position in shares of RDHL.