On Tuesday, February 28, 2017, Immune Pharmaceuticals (IMNP)
announced
that it has observed an impressive clinical response from the first three patients in the company's the open-label Phase 2 clinical study examining bertilimumab for the treatment of bullous pemphigoid (BP). Results from the first three patients show a reduction in the Bullous Pemphigoid Disease Activity Index (BPDAI) by 84%. Additionally, oral prednisone was tapered down to 10 mg or less. Importantly, Immune has observed no significant adverse events so far in the trial.
These results have allowed Immune to do two important things. Firstly, the company expanded the eligibility criteria for the Phase 2 study to now include patients currently on high doses of steroid medications. This is very important because it dramatically expands the pool of eligible patients and should work to meaningfully increase the pace of future enrollment in the study. The previous entry criteria allowed for only newly diagnosed BP patients.
Secondly, based on the encouraging results from the first three patients, Immune has re-filed its application in the U.S. for orphan drug designation. Immune originally asked the FDA for ODD in 2014 and the agency responded that positive data from the Phase 2 study would be necessary before granting approval.
Below is a quick review of bertilimumab and the rationale for the Phase 2 study in BP, as well as what this means for future clinical studies with the drug in a larger dermatologic indication, such as atopic dermatitis (AD).
Background on Bullous Pemphigoid and Role of Eotaxin-1
Bullous Pemphigoid is a chronic autoimmune skin disease that involves the formation of blisters, known as bullae, at the space between the epidermis and dermis layers of the skin. The disease may be acute, but typically will wax and wane over a period of several years. The primary affected regions include the inner thighs and upper arms, but the trunk and extremities are also frequently involved. The disease typically affects individuals over the age of 65 years old, with an estimated 65,000 afflicted patients in the U.S. and European "Big 5" (
1
). It has been designated as an orphan disease by both agencies.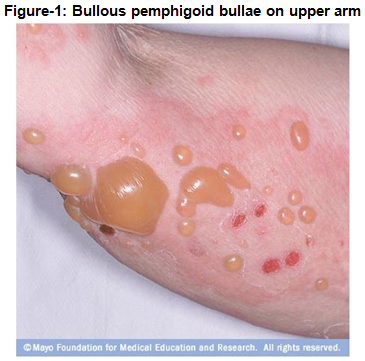 Bullous pemphigoid is a chronic inflammatory disease. If untreated, the disease can persist for months or years, with periods of spontaneous remissions and exacerbations. In most patients who are treated, bullous pemphigoid remits within five years of onset. Patients with an aggressive or widespread disease, or those with underlying medical problems, have a three-fold increased morbidity and risk of death (
2
). And, because the average age at onset of bullous pemphigoid is roughly 65 years, patients frequently have other comorbid conditions that are common in elderly persons, thus making them more vulnerable to the adverse effects of high doses of corticosteroids and immunosuppressive agents.
The disease may be fatal, particularly in patients who are debilitated. The primary causes of death are infection with sepsis and adverse events associated with treatment (
3
). Patients receiving high-dose corticosteroids and immunosuppressants are at risk for several adverse events (SAEs) including peptic ulcer disease, GI bleeds, glaucoma, osteoporosis, hypopituitary-pituitary-adrenal (HPA) axis suppression, psychological effects, agranulocytosis, edema, and diabetes (
4
). A Swiss prospective study confirmed a high fatality rate, with three-fold increased one-year mortality, compared to the expected mortality rate for age-adjusted and sex-adjusted general population (
5
).
Clinical manifestations are widespread tense blisters/bullae and urticarial lesions associated with moderate to severe pruritus. The bullae may eventually erupt, which may cause pain and increased risk of infection. Blistering on the palms and the soles of the feet can severely interfere with patients' daily functions. Other symptoms include blisters in the mouth, which may cause dysphagia, and redness and soreness of the eyes.
The bullae are formed by an immune reaction, initiated by the formation of IgG autoantibodies targeting dystonin, also called Bullous Pemphigoid Antigen 1 (BPAG1). The binding of IgG autoantibodies at the basement membrane activates complement and inflammatory mediators that lead to a cascade of immuno-modulators resulting in a variable surge of immune cells, including neutrophils, lymphocytes, and eosinophils to the affected area. These inflammatory cells are postulated to release proteases, which degrade hemidesmosomal proteins and lead to blister formation.
Eosinophils are characteristically present in human patients' blisters as demonstrated by histopathologic analysis, although their presence is not an absolute diagnostic criterion. Eotaxin, an eosinophil-selective chemokine, is strongly expressed in the basal layer of the epidermis of lesional bullous pemphigoid skin and parallels the accumulation of eosinophils in the skin basement membrane zone area. It may play a role in the recruitment of eosinophils to the skin basement membrane area (
6
).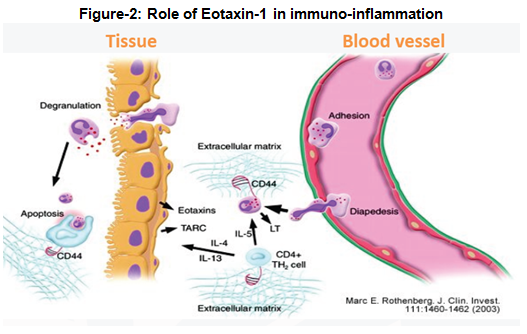 Eotaxin-1 is a master regulator of the immune cellular network by inducing key immune cytokine responses. A study published in the
European Journal of Dermatology
found an increased level of serum eotaxin-1 in BP patients compared to patients with pemphigus vulgaris (PV), another skin blistering disorder, and healthy controls (
7
). In addition, the authors found that eotaxin-1 is correlated with disease severity, with the level of eotaxin-1 in blister fluids found to be approximately 10-fold higher than in corresponding sera and when compared to blister fluid obtained from suction blisters from healthy volunteers.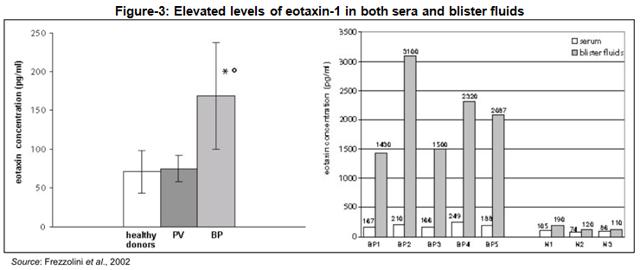 Results published in the
British Journal of Dermatology
also showed elevated levels of eotaxin-1 in blister fluid from BP patients. Quite interestingly, the level of the eotaxin-1 was strongly associated with dermal infiltrating eosinophils in BP patients, and immunohistochemistry analysis showed that eotaxin was strongly over-expressed in epidermal keratinocytes around BP (
8
) but not in healthy controls. Data published in
Clinical and Experimental Immunology
examined the level of eotaxin-1 in BP patients stratified by disease severity. The authors found that the highest levels of eotaxin-1 were in patients suffering from the most severe disease, suggesting a correlation between the level of eotaxin-1 over-expression and disease severity (
9
).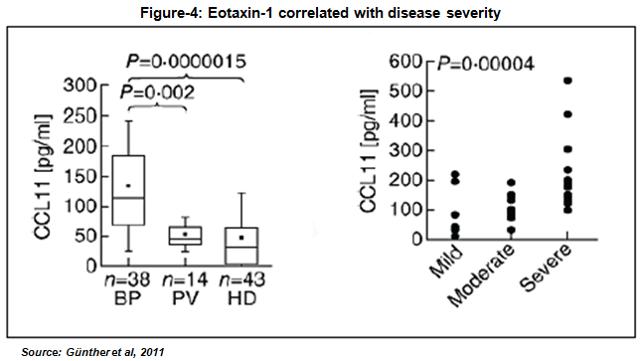 Based on the available peer-reviewed literature, it can be concluded that eotaxin-1 is an important mediator of eosinophil transmigration into tissue and its over-expression is highly correlated with clinical manifestation of BP. Eosinophils co-localized with basal keratinocytes expressing higher eotaxin-1 and CCR3 - CCR is known to be expressed by hematopoietic cells only but a few publications suggest CCR3 is expressed by non-hematopoietic cells as well such as keratinocytes (
10
) as well as fibroblasts - the main receptor in eosinophils with high affinity for eotaxin-1, in skin lesions and bullae of BP patients. Immune believes that these data indicate eotaxin-1 is involved in the dermal eosinophilia and the pathogenesis of BP, thus making eotaxin-1 a valid therapeutic target for treatment of BP disease.
Current Treatment Options for Patients with BP
There is no cure for BP; thus, treatment options are utilized to reduce the size of blisters and provide symptom relief, which includes inflammation and itching. The most commonly used medications are class-1 anti-inflammatory agents such as corticosteroids, tetracyclines, and clobetasol. These agents are generally sufficient to reduce flare-ups and safe for short-term use. A study done in Europe provided evidence that strong topical corticosteroid treatment may be as effective as systemic oral corticosteroids in patients with BP while avoiding systemic adverse effects from systemic use (
11
). However, long-term use of high-dose corticosteroids results in significant side effects, including weight gain, glaucoma, diabetes, high blood pressure, hormone imbalances, osteoporosis, and edema and thus is not suitable for patients with severe or recurrent BP (Mayo Clinic).
For more severe cases, systemic steroids such as prednisone along with immunosuppressives (e.g., azathioprine, methotrexate, mycophenolate mofetil, and cyclophosphamide) may be needed to control the disease. Antibiotics such as tetracycline or erythromycin may also control the disease and prevent infection. In patients who do not use corticosteroids, an anti-CD20 antibody (rituximab), which is relatively specific in targeting the antibody-producing B cells, has been found to be effective (
12
).
What seems clear, however, is that new treatment options for patients with a severe or recurrent disease are necessary. As noted above, patients with a severe disease refractory to anti-inflammatory or immunosuppressive drugs have a three-fold increased risk of mortality. Patients on long-term, high doses (> 0.75 mg/kg) of corticosteroids suffer from numerous serious adverse events (
13
). This is a clear unmet need that needs to be addressed.
Background on Bertilimumab
Bertilimumab is a first-in-class fully human IgG4 monoclonal antibody with high target affinity against eotaxin-1. The antibody was originally discovered by Cambridge Antibody Technology (CAT) using is fully human phage display library. Bertilimumab, originally called CAT-213, binds to the aforementioned eotaxin-1 with very high affinity (~80 pM) and specificity. For example, ELISA analysis conducted using a series of human cytokines and chemokines, including the functionally related eotaxin-2 and eotaxin-3, demonstrates the high affinity and specificity of the antibody for eotaxin-1. This high degree of specificity and affinity should decrease any off-target effects or toxicities due to cross-reactivity with other antigens.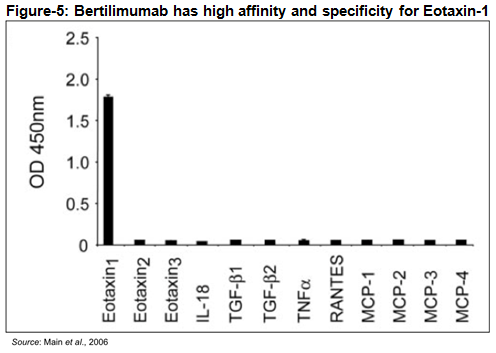 Multiple clinical and preclinical studies with bertilimumab confirm the drug's strong inhibition of eosinophil through the binding of eotaxin-1. For example, bertilimumab neutralizes the ability of eotaxin-1 to cause an increase in intracellular calcium signaling (Figure-6a), neutralizes eotaxin-1 mediated CCR3-expressing cell migration (Figure 6b), and inhibits eosinophil shape change and chemotaxis in vitro (Figure 6c) (source: Immune Pharma).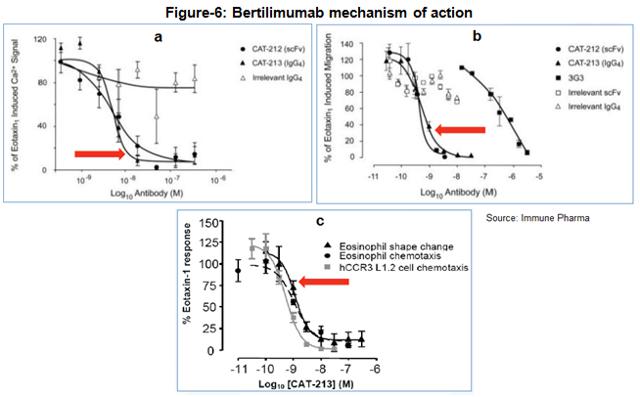 Pharmacokinetic data in 25 healthy male subjects found the elimination half-life to be approximately 14 days, consistent with other monoclonal antibodies. Safety data found no anti-bertilimumab antibody formation after a single intravenous dose. Beyond the blistering skin disease bullous pemphigoid, Immune Pharma sees the anti-eotaxin-1 mechanism offering therapeutic potential in other immunoinflammatory diseases such as ulcerative colitis (Phase 2 ongoing), atopic dermatitis (Phase 2 planned for 2H-2017), pulmonary and liver fibrosis, non-alcoholic fatty-liver disease and non-alcoholic steatohepatitis (Phase 2 planned for 2018). Scientists have even found increasing levels of eotaxin-1 correlate with age and decreased neurogenesis (Figure 7) (
14
).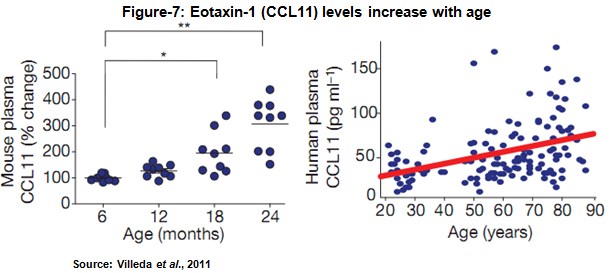 Bertilimumab for the Treatment of BP
There is a clear rationale for examining bertilimumab in BP. Prior studies of bertilimumab have shown nearly a 100% reduction in eotaxin-1 levels within 24 hours of administering the drug, with more than 50% of the inhibition lasting for several weeks.
Immune is currently conducting a Phase 2 open-label, proof-of-concept, single group study in adult patients with newly diagnosed, moderate to extensive BP (
NCT0222146
). Patients will receive concomitant low-dose oral prednisone starting at 30 mg per day during the treatment and follow-up period, which is approximately half of what a typical starting dose would be for a BP patient (recommended starting dose is 0.75 to 1.0 mg/kg). The dosage of prednisone will be tapered down rapidly based on patient response. The primary goal of the study is to evaluate the safety and clinical efficacy of bertilimumab in newly diagnosed patients with BP. Key secondary objectives include evaluating the additional efficacy and pharmacodynamic (PD) effects of the drug in this patient population.
The primary efficacy analysis will be disease control as measured by the Bullous Pemphigoid Disease Area Index (BPDAI), a quantitative measure of disease activity that takes into account the number and size of lesions as well as their location (skin vs. mucosa), as well as the percentage of patients who achieve a steroid dose of less than 10 mg per day.
Based on Immune's press release on February 28, 2017, the company has observed an encouraging response in the first three patients. The BPDAI score has been reduced by 84% in these patients and the average dose of prednisone has been tapered down to 10 mg or less.
Immune has since expanded the study to include patients on high doses of steroids. This is obviously a much larger population of patients and should greatly help Immune speed enrollment in future cohorts. There are not many BP patients in the U.S. (perhaps 15,000 to 20,000), and almost all diagnosed patients are already receiving steroids. Immune's Phase 2 study to date has had to find newly diagnosed patients. Now, the company can go after existing BP patients on unsustainably high doses (sometimes > 50 mg) of steroids and investigate whether or not bertilimumab can improve response and allow patients to taper down steroid dose. I think this will work to greatly increase the pace of enrollment for the company.
Immune has not provided much detail on the expansion of the Phase 2 study; however, I suspect that if additional data are positive the company will be presenting results at a scientific conference in the future. More importantly, positive data with bertilimumab in BP sets the stage for Immune to expand its focus into the much larger atopic dermatitis indication later this year.
Conclusion
A quick search of the U.S. National Library of Medicine, part of the National Institutes of Health ("PubMed") shows over 1,500 publications citing eotaxin-1. One of the most powerful pieces in support of eotaxin-1 as a therapeutic target can be seen in Figure 8 below. The authors, part of the Department of Immunodermatology and Allergology, Instituto Dermopatico dell' Immacolata-IRCCS, Rome, Italy and as far as I can tell unaffiliated with Immune Pharmaceuticals, call eotaxin-1, "The most important cytokine involved in tissue inflammation" (
15
).
Other peer-reviewed literature suggests eotaxin-1 sits at the crossroad of immunology. Immune's bertilimumab, a potent and selective inhibitor of eotaxin-1, is the only active clinical-stage therapeutic that specifically targets this master regulator of inflammation. Quite interestingly, it is not an immunosuppressive drug, it is a patient-tailored immune regulatory therapy.
Bertilimumab has potential in both bullous pemphigoid and severe atopic dermatitis. In the latter disease, it appears to be the only clinical stage biologic competing with Regeneron/Sanofi's Phase 3, dupilumab, a breakthrough therapy designated (
16
) monoclonal antibody against IL-4 receptor alpha subunit. The FDA is set to make a decision on dupiliumab in March 2017.
There are an estimated 65,000 patients in the U.S. and Europe with BP. The literature suggests the large majority of these patients can be treated safely with short-term immunosuppressants and anti-inflammatory medications. However, in at least 25% of the acute BP patients, long-term high-dose systemic corticosteroids are required, resulting in significant safety and tolerability issues. Other patients are simply refractory to high dose steroids and require new treatment options.
An 84% reduction in BPDAI is impressive. For example, it is superior to what a patient with moderate-to-severe psoriasis might see on Humira®, Remicade®, or Enbrel®. I'm also encouraged to see that the company is reporting no significant adverse events have been reported.
I suspect that bertilimumab, with mid-range biologic pricing similar to the anti-TNF molecules like Humira®, Remicade®, and Enbrel® use for the treatment of psoriasis (note I am not assuming orphan biologic pricing), the market opportunity for Immune in BP easily looks like $350 to $400 million. Atopic dermatitis, a condition that affects over 100 million globally, could easily be a blockbuster indication for Immune or its commercial partner. I'm looking forward to seeing the data from the Phase 2 study when Immune releases it later this year.
------------
Please see important information about BioNap, Inc. and our relationship with names in this article in our Disclaimer.
BioNap has no position in any stock noted above.