In October 2015, RedHill Biopharma (RDHL) announced positive top-line results from a Phase 1 clinical study with YELIVA™ (ABC294640) in patients with advanced solid tumors (
see release
). The primary endpoint of the study was to identify the maximum tolerated dose (MTD) and any dose-limiting toxicities that would inhibit use of the drug in the next stage of clinical trials. Secondary endpoints included safety, toxicity, pharmacokinetics (PK), and pharmacodynamics (PD), all of which were met successfully in the Phase 1 study.
In the next few weeks, I'm expecting management to provide the final data from the Phase 1 study. For the purpose of this article, I thought I'd focus on the available data with YELIVA and where RedHill might take the drug in the next stage of studies. I think YELIVA represents a very interested asset that a larger pharmaceutical company might like to acquire. The drug offers a novel mechanism of action, can be dosed orally, and has synergistic benefits with some large blockbuster oncology drugs, including Avastin®, Erbitux®, Rituxan®, and Nevaxar®.
RedHill's corporate strategy is to advance novel assets for gastrointestinal, inflammatory, and oncology indications into late-stage clinical studies and then partner for commercialization. The company has three Phase 3 GI-related assets, RHB-104 for Crohn's disease, RHB-105 for
H. pylori
infection, and Bekinda™ for gastroenteritis / irritable bowel. Partnering opportunities exist with all three, but YELIVA might represent the most interesting overall opportunity for the company.
A Quick Background On YELIVA
RedHill acquired exclusive worldwide rights to ABC294640 (now branded as YELIVA™) in March 2015 from privately-held Apogee Biotechnology Corp. of Hershey, Pennsylvania. RedHill paid Apogee an upfront payment of $1.5 million and will pay up to an additional $4.0 million in potential milestone payments, plus tiered royalties starting in the low double-digits to Apogee based on successful development of the drug.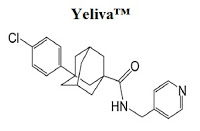 YELIVA is an orally available, small molecule inhibitor of sphingosine kinase-2 (SK2). SK2 is a conserved lipid kinase that catalyzes the phosphorylation of sphingosine to form sphingosine 1-phosphate (S1P), a lipid second messenger with substantial implications in cell proliferation, cell migration, and inflammation (
1
). It is a critical mediator of apoptosis through both autocrine and paracrine manners (
2
,
3
). Specifically, S1P binds to several unique receptors to act on a number of biological functions, including mediation of pro-inflammatory cytokines such as TNFα and IL-1.
S1P is upregulated in inflammation and certain types of cancer. Aberrant S1P signaling can lead to cell proliferation, migration, drug resistance, angiogenesis, lymphangiogenesis, and inflammation (
4
). Altered upregulation of S1P can also lead to immune cell trafficking and suppression of T cell proliferation and cytokine production (
5
). Over-expression of S1P decreases CD4 T cell generation and Th2 and Th17 response (
6
). By inhibiting the SK2 enzyme, YELIVA blocks the synthesis of S1P, potentially down-regulating cell over-proliferation and inflammation, and offering therapeutic utility for the treatment of certain types of cancer, inflammatory diseases, and beyond (
7
).
YELIVA is a first-in-class, new chemical entity. Preliminary evidence suggests that because of its specificity for targeting SK2, rather than SK1, the drug may have a better therapeutic ratio than nonspecific sphingosine kinase inhibitors or those targeting only SK1. Because of this, Apogee was able to receive significant grant funding on ABC294640 prior to the licensing agreement with RedHill Biopharma. For example, cumulative funding totaling $14 million to support the development of the drug has been awarded, primarily through grants and contracts from U.S. federal and state government agencies such as the NIH Small Business Innovation Research/Small Business Technology Transfer (SBIR/STTR) program, the National Cancer Institute (NCI), the U.S. Department of Health and Human Services' Biomedical Advanced Research and Development Authority (BARDA), the Department of Defense (DOD), the FDA Office of Orphan Products Development (OOPD), and the Pennsylvania Department of Health.
Since the initial licensing agreement with Apogee, development of the drug has continued through these non-dilutive sources of capital. For example, in September 2015, RedHill announced the U.S. National Cancer Institute awarded Duke University Medical Center a $2 million grant to study YELIVA in a Phase 2 clinical trial for multiple myeloma (
see release
) and in October 2015, the NCI awarded Apogee a $225,000 SBIR grant to support continued preclinical work of YELIVA for the treatment of prostate cancer (
see release
).
YELIVA For Solid Tumors
As noted above, RedHill reported top-line results from a solid tumor study (
NCT01488513
) with YELIVA in October 2015. This was a Phase 1 study primarily looking at the safety and tolerability of the drug, along with dosing PK/PD data in 21 cancer patients. Oral administration of YELIVA resulted in a rapid and pronounced decrease in S1P levels over the first 12 hours after dosing, with a return to baseline at 24 hours, consistent with the expected clearance of the drug. The reduction in S1P levels is suggestive of antitumor activity.
The majority of the patients treated in this Phase 1 study had gastrointestinal cancers, including pancreatic, colorectal, and cholangiocarcinoma cancers. Patients were continuously treated in cycles of 28 days with YELIVA in the absence of disease progression. Tumors were reimaged every two cycles, with several patients demonstrating prolonged stabilization of disease. I'm expecting the company to receive the final clinical study report in the next few weeks and then seek to present the full data at an appropriate scientific or medical forum in 2016.
The Phase 1 study was conducted at the Medical University of South Carolina (MUSC) and supported by a $1.8 million grant from the NCI awarded to MUSC, and a grant from the FDA's OOPD awarded to Apogee Biotechnology Corp. MUSC and Apogee had previously studied YELIVA in various
in vitro
and
in vivo
models of castration-resistant prostate cancer. The results show YELIVA reduced the viability of prostate cancer cells through a nonapoptotic mechanism that involves increased lysosomal acidification and diminished expression of androgen receptor and c-Myc oncogene.
Prostate Cancer:
The opportunity for YELIVA in prostate cancer is quite interesting. The YELIVA mechanism of action seems particularly ideal for prostate cancer, where high levels of SK1 expression or activity are specifically associated with poor prognosis (
8
).
Data published in
Molecular Cancer Therapeutics
in 2015 shows YELIVA diminished the growth rate of TRAMP-C2 xenografts
in vivo
in syngeneic hosts and elevated dihydroceramide within tumors as visualized by MALDI imaging mass spectroscopy (see below) (
9
). In summary, this work suggests YELIVA may reduce the proliferative capacity of castration-resistant prostate cancer cells through inhibition of both SK2 and dihydroceramide desaturase, thereby providing a foundation for future exploration of the drug for the treatment of advanced disease.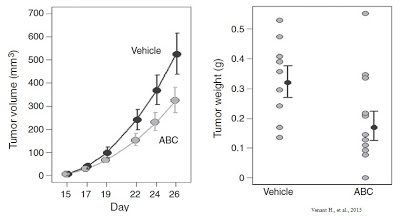 A paper in
Nature Reviews: Urology
, reported compelling evidence that SK1 activation contributes to cancer progression leading to increased oncogenic transformation, tumor growth, resistance to therapies, tumor neovascularization, and metastatic spread. Recent studies using prostate cancer cell and mouse models demonstrate a significant potential for sphingosine kinase targeting therapies to synergize with the effects of docetaxel chemotherapy and radiotherapy (
10
).
This makes an interesting potential combination for YELIVA with taxane-based chemotherapies such as docetaxel or paclitaxel. The majority of patients in the U.S. with hormone-refractory prostate cancer start treatment with paclitaxel or docetaxel, but most of them eventually develop drug resistance (
11
). YELIVA's ability to downregulate c-Myc and androgen receptor (
12
), and inhibit growth and proliferation of cell-cycle progression, might reduce resistance to taxane chemotherapy (
13
).
Colorectal Cancer:
The concept of SK2 targeting as a method on the c-Myc oncogene may hold utility in a number of other solid tumor indications. For example, work published in
Tumor Biology
in 2016 found that SK2 depletion by specific small interfering RNA (siRNA) in colorectal cancer (CRC) cell lines was found to affect cell proliferation and cell migration. The authors concluded that the pathogenesis of CRC may be mediated by SK2, and SK2 could represent a selective target for the molecularly targeted treatments of CRC (
14
). Work published in
The Journal of Experimental & Clinical Cancer Research
in 2015 found that YELIVA sensitized the activity of 5-FU and cisplatin in xenograft models (
15
).
Vascular endothelial growth factor (VEGF) stimulation of sphingosine kinase (SPK) has been proven to affect endothelial cell signaling and tumor cells expressing VEGF receptors. VEGF treatment reduced cellular sphingosine levels while raising that of sphingosine-1-phosphate (
16
). This suggests potential synergistic opportunities of VEGF-inhibitors used for CRC, such as bevacizumab (Avastin), which is one of the largest oncology drugs in the world.
Lung Cancer:
A team of researchers out of China found that SK2 over-expression promotes chemoresistance in non-small cell lung cancer (NSCLC), as well as resistance to epidermal growth factor (EGRF) inhibitors (
17
). This suggests, beyond the potential synergy with VEGF-inhibitors such as Avastin, YELIVA might make an interesting combination with EGRF-inhibitors such as erlotinib (Tarceva®), gefitinib (Iressa®), and cetuximab (Erbitux®) for the treatment of lung cancer.
Other work in NSCLC published in
Cancer Biology & Therapy
in 2015 found that YELIVA enhanced the antitumor effects of tumor necrosis factor-related apoptosis-inducing ligand (TRAIL) in two different cell lines (
18
).
Ovarian Cancer:
A team of researchers out of Tulane University studied YELIVA in two ovarian cancer cell lines, BG-1 and Caov-3. The drug dose-dependently inhibited clonogenic survival and cell viability of both ovarian cancer lines
in vitro
. In the Caov-3 cell line, YELIVA plus paclitaxel induced apoptotic cell death through activation of caspase-9 (
19
). The authors opined that YELIVA might mediate its anticancer effect in ovarian cancer through re-sensitizing tumors to standard chemotherapy. This again presents an interesting combination approach for the drug in future clinical studies.
Breast Cancer:
Resistance to chemotherapy remains a significant obstacle in the treatment of hormone-independent breast cancer. The same team out of Tulane University published data showing that altered sphingolipid signaling through increased sphingosine kinase activity may be an important mediator of breast cancer drug resistance. The work published in
Cancer Biology & Therapy
in 2011 showed that treatment with YELIVA reduced cancer cell proliferation and induced apoptosis through the programmed cell death pathway. In fact, 50 mg/kg of YELIVA completely blocked tumor volume in a xenograft model (
20
).
Cholangiocarcinoma:
The activity of targeting SK2 as a treatment for cholangiocarcinoma (bile duct cancer) was investigated by a team of researchers in China, collaborating with MUSC and Apogee Biotech in the U.S. Findings published in
Oncotarget
earlier in 2016 show SK2 is over-expressed in numerous cholangiocarcinoma cell lines and that inhibition with YELIVA blocked cell proliferation and induced caspase-dependent apoptosis (
21
). The authors concluded that synergistic combinations with sorafenib (Nexavar) and/or autography inhibitors might provide a novel strategy for the treatment of cholangiocarcinoma.
HCC, RCC, Pancreatic Cancer:
The cholangiocarcinoma findings above were not the first time a synergistic combination between YELIVA and Nexavar was thought to exist. Researchers out of MUSC published data showing the antitumor effects of YELIVA combined with the multikinase inhibitor sorafenib in mouse models of hepatocellular carcinoma, kidney carcinoma, and pancreatic adenocarcinoma (
22
). This represents yet another interesting potential development path for RedHill's Phase 2 ready drug.
The potential synergistic effects of YELIVA and sorafenib are quite interesting because SK2 inhibition has been shown to increase the activity of death receptor-5 agonists (
23
). One such drug, tigatuzumab, was studied by Daiichi Sankyo in a Phase 2 clinical trial combined with sorafenib (
24
). Although the data showed that tigatuzumab plus sorafenib was well tolerated and that there was a numerical increase in median overall survival (12.2 months vs. 8.2 months, P = 0.30), results were not statistically superior to sorafenib monotherapy (
25
). YELIVA, which may have synergistic effects with both tigatuzumab and sorafenib, might have made an interesting addition to this program.
YELIVA For Hematological Cancers
S1P has been implicated in the migration and trafficking of lymphocytes and several lymphoid malignancies through S1P receptors. Moreover, the over-expression of sphingosine-1-phosphate receptor-1 has been correlated with the constitutive activation of signal transducer and activator of transcription (STAT) and poor response to rituximab (Rituxan) for the treatment of diffuse large B-cell lymphoma (DLBCL) (
26
).
Diffuse Large B-cell Lymphoma:
RedHill is currently recruiting patients in a Phase 1/2 clinical study (
NCT02229981
) with YELIVA for refractory or relapsed DLBCL. Funding from this program is being supported by a $1.5 million grant awarded by the NCI under the NIH SBIR/STTR program to Apogee in conjunction with the Louisiana State University Health Science Center (LSU-SC). Estimated target enrollment is 33 patients with DLBCL, with the primary analysis focusing on the tolerability of the drug. Secondary evaluations will focus on the preliminary signs of efficacy of the drug. The trial is expected to complete in 2017.
Over-expression of S1P is quite common in patients with DLBCL. A team of researchers out of Japan found S1PR1 over-expression in 15.7% of all cases with DLBCL and over half of the cases with primary testicular (PT)-DLBCL (
27
). The potential to improve respond to Rituxan represents an interesting path forward for YELIVA in this indication.
Multiple Myeloma:
SK2 is over-expressed in myeloma cells and contributes to myeloma cell survival and proliferation. Data published by MUSC in
Blood
in 2014 shows that inhibition of SK2 by YELIVA effectively inhibited myeloma cell proliferation and induced caspase 3–mediated apoptosis (
28
). The mechanism of action is down-regulation of c-Myc and Mcl-1, and that there may be a synergistic benefit to combination with a Bcl-2 inhibitor, such as venetoclax (Venclextra™).
A Phase 2 study of YELIVA for the treatment of refractory or relapsed multiple myeloma (rrMM) is planned to initiate later in 2016. The study will be conducted at Duke University Medical Center and has received Institutional Review Board (IRB) approval from Duke University. The study is supported by a $2 million grant awarded to Apogee, in conjunction with Duke University, from the NCI SBIR Program.
YELIVA For Acute Radiation Injury & Radioprotection
Apogee and RedHill have reported that multiple preclinical studies funded by the NIH (BARDA) and the DoD demonstrate the activity of YELIVA against gastrointestinal injury from accidental acute radiation exposure. Management believes there is a possible path forward with the drug as a radioprotectant against accidental radiation exposure, and that YELIVA may qualify as a medical countermeasure under the Animal Rule, under which no human efficacy studies would be required for FDA approval.
The company is also planning to evaluate YELIVA as a radioprotectant to prevent mucositis in cancer patients undergoing therapeutic radiotherapy. This Phase 2 study is planned to be funded directly by RedHill, which is also funding the data management and providing the drug for the NCI-supported studies noted above.
Conclusion
YELIVA is a very intriguing drug for RedHill Biopharma. Initial clinical funding to date has been through non-dilutive grants and awards to partners and universities. I found over a dozen proof-of-concept results in numerous solid tumor and hematological indications. I'm not aware of any other company working on an SK2 inhibitor (per FactSet, June 2016), a mechanism that seems to offer potential synergy with chemotherapies paclitaxel, docetaxel, 5-FU, and cisplatin, along with targeted therapies, including Avastin, Erbitux, Rituxan, and Nexavar. Although no PubMed yet exists looking at SK2 inhibitors combined with checkpoint inhibitors, the excellent tolerability of YELIVA and the oral dosing suggests this is a viable combination as well.
In my opinion, YELIVA looks exactly like the type of mid-stage oncology asset that a larger biopharma company can acquire and invest heavily in to exploit the novel mechanism of action. It is also the kind of drug that a large company might want to combine with an existing drug near patent expiration to extend life or reinvigorate use. I'm very interested in seeing the full Phase 1 solid tumor data presented by RedHill in the near future. As noted above, this trial enrolled subjects with pancreatic cancer, colorectal cancer, and cholangiocarcinoma.
RedHill exited the first quarter with $53.4 million in cash, so management can pursue numerous paths forward with YELIVA development. I'm particularly excited to see what can be accomplished in HCC, pancreatic, or cholangiocarcinoma because these are some of the most difficult cancers to treat. Data in DLBCL and MM are expected in 2017 and represent yet another potential for RedHill to collaborate with some of the industry's behemoths for YELIVA development.
----------
Related:

RedHill Keeps Pipeline Moving Forward >> LINK
BioNap Interview With RedHill Biopharma CEO >> LINK
----------
BioNap is party to a services agreement with the company that is the subject of this report pursuant to which BioNap is paid five thousand dollars per month by the company in exchange for the provision of research reports, investor relations services, and general consulting services.
Please see additional information on our Disclaimer.