On January 4, 2016, InVivo Therapeutics (NVIV) announced the company had
received approval
from the U.S. FDA to transition the ongoing pilot study into a pivotal probable benefit study. We essentially already knew this news was coming, as the company announced in early December 2015 that it received conditional approval for INSPIRE ("
In
Vivo Study of Probable Benefit of the Neuro-
Spi
nal Scaffold for Safety and Neurologic
Re
covery in Subjects with Complete Thoracic AIS A Spinal Cord Injury") and that final approval was pending a minor change to the informed consent form.
I view this as very good news for InVivo. In my article below I outline why I believe the hurdle for approval under INSPIRE is low and what InVivo may be worth based on approval and launch of the NSS under this expedited Humanitarian Device Exemption (HDE) pathway.
Handicapping INSPIRE
InVivo will use "objective performance criterion" (OPC) to support the probable benefit claim of the Neuro-Spinal Scaffold (NSS). This will likely be an improvement of at least one grade on the American Spinal Injury Association Impairment Scale (AIS). As a reminder, all patients participating in INSPIRE must have a thoracic spinal cord injury graded as complete "A" on the AIS. More on the entry criteria can be learned on the ClinicalTrials.gov website (
NCT02138110
).
One additional protocol amendment may be required to establish the probable benefit criteria. I suspect this may be some other performance scale, such as ISNCSCI sensory and motor scores, measures of bladder and bowel function, Spinal Cord Independence Measure (SCIM III), pain, Quality of Life, or MRI measures.
Regardless of the final OPC protocol, I believe the bar for approval has been set at an achieved level. As a reminder, the U.S. FDA defines "
probable benefit
" for an HDE as, "The device will not expose patients to an unreasonable or significant risk of illness or injury and the probable benefit to health from the use of the device outweighs the risk of injury or illness from its use, taking into account the probable risks and benefits of currently available devices or alternative forms of treatment."
Three large natural history databases provide historical benchmarks for AIS conversion rates in patients with complete (AIS A) thoracic injury. These include:
1–European Multicenter Study about Spinal Cord Injury (EMSCI,
Zariffa J, et al., 2011
).
2–Spinal Cord Injury Model System (US database,
Lee BA, et al., 2014
).
3–Sygen clinical trial in spinal cord injury (
Fawcett JW, et al., 2007
).
Results from these three independent programs suggest the rate of spontaneous recovery from a complete thoracic AIS A spinal cord injury ranges between 12.9% and 15.6% at six months.
I believe this is a relatively low hurdle rate and should be easily achievable for InVivo based on the results from the first five patients enrolled in the pilot study, which will count as part of the full 20-patient dataset once the Humanitarian Use Device application is filed in 2017. Recall, two of the first five patients (40%) have improved from AIS A at six months so far in the study. Patient No. 1 improved to AIS C and patient No. 3 improved to AIS B after only one month post device implantation. Additionally, patient No. 2 has demonstrated marked sensory, bowel and bladder improvement on the ISNCSCI and SCIM III scales, as well as significant improvement quality of life.
No definitive OPC has been noted by InVivo management yet; . however, if we assume the range above is an acceptable benchmark, InVivo is almost already over the benchmark with two patients meeting the goal of the total 20 planned in INSPIRE. In fact, to achieve 15% recovery, InVivo would only need to demonstrate improvement in one more patients of the next 15 to be enrolled. If we use a more aggressive 25% responder rate, InVivo is still nicely ahead of the pace. To achieve 25% response, InVivo only needs three of the next 15 patients to show an improvement in AIS. A 30% responder rate, the rate in which the U.S. FDA typically seeks for pain drugs (e.g. Lyrica®, Cymbalta®), would require six of the planned 20 patients to have an improvement in AIS, or four of the next 15.
This should help put things into perspective for investors. The stock has sold off recently because investors are concerned patients 4 and 5 have yet to improve on the AIS, even though neither patient has made it to six months yet. That being said, it is completely unrealistic to assume a response rate of 100% for a device such as this. Spinal cord injuries are incredibly heterogeneous and even drug like Humira®, currently the world's best-selling drug, only works in
about 50%
of the patients that take it. Accordingly, I think investors should have a good sense of the approvability of the NSS under HUD by the middle of 2016 assuming we are well on target for a response rate above 25-30% at that time.
How Big is the NSS Under HUD?
The inclusion criteria for INSPIRE allows for patients aged 16 to 7 that have had a complete injury scored as "A" on the AIS occurring between T3-T12/L1 within the past 4 days. The injury must be non-penetrating, no less than 4 mm diameter and limited to two contiguous vertebral levels. Based on my combing of the 2014 Annual Report of the National Spinal Cord Injury Statistical Center (
NSCISC
), I put the following "target population" data together.
As such, I think the target population under the existing HDE is approximately 2,700 patients. That being said, given the strong evidence that the NSS seems to be working, I think it is a very safe assumption that neurosurgeons will use InVivo's NSS in patient populations outside the narrow HDE criteria. There are another ~10,000 acute spinal cord injury patients in the U.S. each year that might benefit from InVivo's device. Some of these injuries are in the cervical region where surgeons might not be comfortable implanting the device, and some of these injuries are penetrating to the point where the spinal has been shredded and the device simply will not work; but, after looking at the 2014 NSCISC statistics, I think the target patient population for InVivo's device is at least another 3,000 to 5,000 patients once approved.
The table below is pulled from the 2014 National SCI "Facts and Figures" worksheet. It shows the average yearly health care and living expenses and the estimated lifetime costs that are directly attributable to SCI based on the severity of the injury. These figures do not include any indirect costs, such as losses in wages, fringe benefits, and productivity.
I present this data so that investors can get a good sense of what InVivo can charge for the NSS. For example, so far all patients enrolled in the INSPIRE study are paraplegia AIS A. In the first year of treatment, the average health care and living expense cost for this type of injury is $518,904. Each subsequent year this patient will incur an additional $68,739 in health care and living expense costs.
InVivo has shown that it can take a complete injury paraplegic patient with no motor function below the level of the injury and not only improve their AIS score but also return bowel and bladder function 40% of the time. The difference in cost between paraplegia AIS A/B/C and motor function AIS D is approximately $171,420 in health care and living expense costs for the first year. Each subsequent year this type of improvement would save $26,533.
To me, it seems clear that InVivo can go to hospitals, insurance companies, and patients, show them this data, and effectively negotiate a price of around $150,000 for a one-time implantation of the NSS. Based on InVivo's pilot study, two or three of the first five patients would already be on a path to recoup the majority of this cost in the first year, and then save tens of thousands of dollars each additional year of their life.
I also think, based on the existing clinical experience, implantation of the NSS will be very high penetration among the target patient group. If you had a severe thoracic spinal cord injury that left you completely paraplegic, why on earth would you not want to try this device? The safety to data has been outstanding and so far the efficacy looks solid. I'm modeling 75% penetration into the HDE market
Under these forecasts, InVivo's NSS should generate $500 million in annual sales by the eight year post-launch. I've plugged in some additional financial metrics into my DCF model to value InVivo. These include a 10% initial cost of good on the device, dropping to 6% at peak. I'm also assuming a model $50 million per year operating budget and 30% effective tax rate. I'm using a 15% discount rate on the future cash flows, 2% terminal growth rate, and then adjusting the entire thing down by 50% just to be ultra-conservative on the risk profile. Even at 50% probability, my DCF pegs the value of InVivo today, sans any sales of the NSS into off-label populations or the potential development of the NSS in combination with stem cells at over $14 per share.
The Upside is Tremendous
An HDE application allows for the sale of the NSS device to address a target population of 4,000 individuals in the U.S. Above I have pegged the on-label use of the NSS at about $500 million in peak sales. But as I've noted, this only address roughly 2,700 patients in the first year of the launch. There is off-label potential for the use of NSS in cervical patients or patients with a penetrating injury where the spinal surgeon still believes the device may help in recovery. Simply expanding the NSS ramp to max out the full 4,000 patients per year under HUD expands the peak sales estimate from $500 million to $665 million, and raises my target price from $14 to $24 per share.
I also note that the model I posted above does not include any sales of the NSS device seeded with human neural stem cells. Recall that in early December 2015, the company
signed an agreement
with the University of San Diego to exclusively license technology around, "Spinal Multisegmental Cell and Drug Delivery System" and the "Method and System for Cellular Transplantation in the Spinal Cord." InVivo also has filed a provisional application in support of the Bioengineered Neural Trails program titled "Methods and Systems for Delivery of a Trail of a Therapeutic Substance."
It is clear that InVivo is moving forward into chronic spinal cord injury with the use of the NSS device seeded with stem cells. This would be to target spinal cord injury patients long after the injury, potentially using the device to seed and support neural stem cells that would sprout new axonal growth and re-connect the signal below the site of injury. The cartoon below depicts a very good representation of how this technology would work.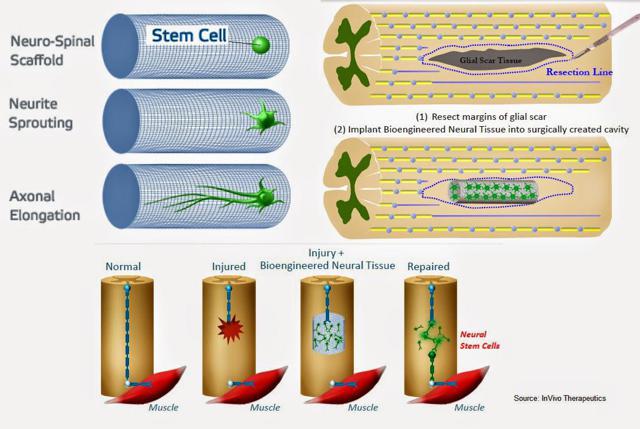 Conclusion
The chronic spinal cord injury market is approximately 25X the size of the acute injury market I discussed above. This presents tremendous upside to the InVivo story. That being said, I believe the bar for approval in the initial population under INSPIRE has been set at an achievable level, and with some conservative assumptions, the stock is worth $14 today. It could be worth $24 per share post-approval depending on the uptake of the device. I continue to be long InVivo today at $7.10 per share.
----------