Please see the BioNap, Inc. Disclaimer
In my previous articles on RedHill Biopharma Ltd. (RDHL), I have covered the company's three orally-administered Phase 3 candidates for acute and chronic gastrointestinal disorders. I encourage investors to view these articles, which includes: an analysis of RHB-104 for the treatment of Crohn's Disease >>
HERE
, an analysis of RHB-105 for the treatment of H. pylori infection >>
HERE
, and an analysis of Bekinda™ for the treatment of gastroenteritis and irritable bowel syndrome with diarrhea >>
HERE
. All three assets are in Phase 3 clinical trials and have varying levels of projected success based on my analysis of the scientific merits of each drug and the existing clinical data generated by the company to date.
For the article below, I change gears somewhat, looking earlier into the pipeline and at the company's efforts with YELIVA™ for the treatment of multiple oncology, inflammatory and gastrointestinal diseases. Although only in Phase 2 clinical studies, YELIVA™ could be the most interesting candidate in all of RedHill's pipeline, and the one with the largest potential given the novel mechanism of action and large market potential targeting some of the most difficult to treat oncology, gastrointestinal and inflammatory indications.
Background on YELIVA™
In March 2015, RedHill Biopharma acquired exclusive worldwide development and commercialization rights for all indications to ABC294640, now called YELIVA™, from privately-held Apogee Biotechnology Corp. of Hershey, Pennsylvania. Apogee was founded in 2001 by Dr. Charles D. Smith, PhD to develop orally available small molecules for the treatment of cancer and inflammatory diseases. Under the terms of the agreement, RedHill paid Apogee an upfront payment of $1.5 million, and will pay up to an additional $4.0 million in potential milestone payments, and potential tiered royalties starting in the low double-digits to Apogee based on successful development of ABC294640.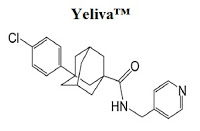 YELIVA™ is an orally available, small molecule inhibitor of sphingosine kinase-2 (SK2). SK2 is a conserved lipid kinase that catalyzes the phosphorylation of sphingosine to form sphingosine 1-phosphate (S1P), a lipid mediator of diverse intra- and extracellular processes. Specifically, S1P binds to several unique S1P receptors to act on a number of biological functions, including D-erythro-dihydrosphingosine, D-erythro-sphingosine, and L-threo-dihydrosphingosine. Through these mechanisms, S1P promotes cell growth and survival, and mediates pro-inflammatory synthesis, including TNFα signaling and production of other inflammatory cytokines.
In certain types of cancer, aberrant S1P signaling can lead to cell proliferation, migration, drug resistance, angiogenesis, and inflammation. Altered regulation of S1P can also lead to immune cell trafficking and suppression of innate immune responses from T cells (Olivera & Spiegel, 2001). By inhibiting the SK2 enzyme, YELIVA™ blocks the synthesis of S1P, potentially down-regulating cell over-proliferation and inflammation, and offering therapeutic utility for the treatment of certain types of cancer, such as prostate cancer (Pchejetski D., et al, 2011) and breast cancer (Antoon W., et al., 2012).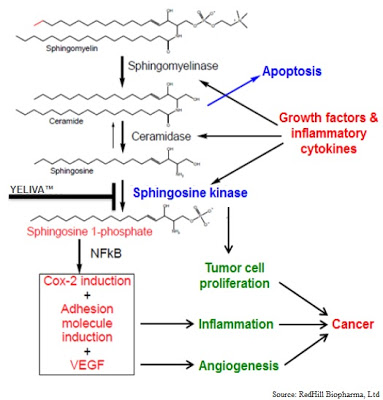 YELIVA™ is a first-in-class, new chemical entity. Preliminary evidence suggests that because of its specificity for targeting SK2, rather than SK1, the drug may have a better therapeutic ratio than nonspecific sphingosine kinase inhibitors or those targeting only SK1. Because of this, Apogee was able to receive significant grant funding on ABC294640 prior to the licensing agreement with RedHill Biopharma. For example, cumulative funding exceeded $14 million to support the development of the drug has been awarded, primarily through grants and contracts from U.S. federal and state government agencies such as the NIH Small Business Innovation Research/Small Business Technology Transfer (SBIR/STTR) program, the National Cancer Institute (NCI), the U.S. Department of Health and Human Services' Biomedical Advanced Research and Development Authority (BARDA), the Department of Defense (DOD), the FDA Office of Orphan Products Development (OOPD), and the Pennsylvania Department of Health.
Since the initial licensing agreement with Apogee, development of the drug has continued through these non-dilutive sources of capital. For example, in September 2015, RedHill announced the U.S. National Cancer Institute awarded Duke University Medical Center a $2 million grant to study YELIVA™ in a Phase 2 clinical trial for multiple myeloma (
see release
) and in October 2015, the NCI awarded Apogee a $225,000 SBIR grant to support continued preclinical work of YELIVA™ for the treatment of prostate cancer (
see release
).
Indication 1: Advanced Solid Tumors
In October 2015, RedHill announced positive top-line results from a Phase 1 clinical study (
NCT01488513
) with YELIVA™ in patients with advanced solid tumors (
see release
). The primary endpoint of the study was to identify the maximum tolerated dose (MTD) and any dose-limiting toxicities that would inhibit use of the drug in the next stage of clinical trials. Secondary endpoints included safety, toxicity, pharmacokinetics (PK), and pharmacodynamics (PD), all of which were met successfully in the Phase 1 study. However, management was also able to assess the preliminary signs of antitumor activity of YELIVA™ in the 21 patient trial. The data show oral administration of YELIVA™ resulted in a rapid and pronounced decrease in S1P levels over the first 12 hours, with a return to baseline at 24 hours, consistent with the expected clearance of the drug.
The majority of the patients treated in this Phase 1 study had gastrointestinal cancers, including pancreatic, colorectal, and cholangiocarcinoma cancers. Patients were continuously treated in cycles of 28 days with YELIVA™ in the absence of disease progression. Tumors were reimaged every two cycles, with several patients demonstrating prolonged stabilization of disease.
An independent review and analysis of the underlying data, including all safety, secondary and other outcome measures is ongoing, with a final clinical study report (CSR) expected by the end of the year or early 2016. Management at RedHill plans to present the full data at an appropriate scientific or medical forum in 2016. The Phase 1 study was conducted at the Medical University of South Carolina (MUSC) and supported by a grant from the NCI awarded to MUSC, and a grant from the FDA's OOPD awarded to Apogee Biotechnology Corp.
Indication 2: Refractory/Relapsed Multiple Myeloma
A Phase 2 study of YELIVA™ for the treatment of refractory or relapsed multiple myeloma (rrMM) is planned to initiate by early 2016. The study will be conducted at Duke University Medical Center and has received Institutional Review Board (IRB) approval from Duke University. As noted above, the study is supported by a $2 million grant awarded to Apogee, in conjunction with Duke University, from the NCI SBIR Program.
Indication 3: Refractory/Relapsed Diffuse Large B-Cell Lymphoma
RedHill is currently recruiting patients in a Phase 1/2 clinical study (
NCT02229981
) with YELIVA™ for refractory or relapsed diffuse large B-cell lymphoma (DLBCL). Funding from this program is being supported by a $1.5 million grant awarded by the NCI under the NIH SBIR/STTR program to Apogee in conjunction with the Louisiana State University Health Science Center. Estimated target enrollment is 33 patients with DLBCL, with the primary analysis focusing on the tolerability of the drug. Secondary evaluations will focus on the preliminary signs of efficacy of the drug. The trial is expected to complete in 2017.
Indication 4: Prostate Cancer
In October 2015, researchers from MUSC, in collaboration with Apogee Biotech and RedHill, published a paper in Molecular Cancer Therapeutics highlighting the potential for YELIVA™ to reduce cancer cell growth in various in vitro and in vivo models of castration-resistant prostate cancer. The results show YELIVA™ reduced the viability of prostate cancer cells through a nonapoptotic mechanism that involves increased lysosomal acidification and diminished expression of androgen receptor and c-Myc oncogene. Researchers found the IC50 (at 72 hours) to be between 28 mmol/L and 32 mmol/L in prostate cancer cells but were unable to determine the IC50 in nonmalignant cells, suggesting that normal healthy cells are more resistant to the mechanism (Venant H., et al., 2015).
YELIVA™ diminished the growth rate of TRAMP-C2 xenografts in vivoin syngeneic hosts and elevated dihydroceramides within tumors as visualized by MALDI imaging mass spectroscopy (see below). The plasma concentration of YELIVA™ (ABC294640) treated mice contained significantly higher levels of C16- and C24:1-ceramides (but not dihydro-C16-ceramide) compared with vehicle-treated mice. In summary, the work published by Venant H., et al., suggest that YELIVA™ may reduce the proliferative capacity of castration-resistant prostate cancer cells through inhibition of both SK2 and dihydroceramide desaturase, thereby providing a foundation for future exploration of the drug for the treatment of advanced disease.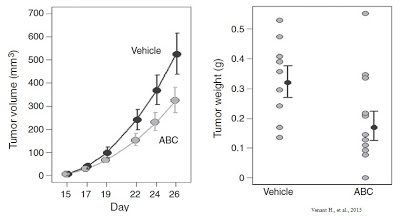 Indication 5: Radioprotection
The company is also planning to evaluate YELIVA™ as a radioprotectant to prevent mucositis in cancer patients undergoing therapeutic radiotherapy. This Phase 2 study is planned to be funded directly by RedHill, which is also funding the data management and providing the drug for the NCI-supported studies noted above.
Indication 6: Acute Radiation Injury
Apogee and RedHill have reported that multiple preclinical studies funded by the NIH (BARDA) and the DoD have demonstrated activity of YELIVA™ against gastrointestinal injury from accidental acute radiation exposure. Management believes there is a possible path forward with the drug as a radioprotectant against accidental radiation exposure, and that YELIVA™ may qualify as a medical countermeasure under the Animal Rule, under which no human efficacy studies would be required for FDA approval.
Conclusion
On the cusp, YELIVA™, a first-in-class proprietary oncology drug, may look like a strategy drift for RedHill, a company with multiple Phase 3 specialty pharmaceutical assets for gastrointestinal and inflammatory disorders. But Phase 2-stage YELIVA™ is an orally-administered small molecule drug targeting multiple oncology, gastrointestinal and inflammatory diseases and is therefore well within RedHill's focus on orally-administered small molecule drugs for those exact indications. Moreover, with YELIVA™ RedHill has the potential to do something most specialty pharmaceutical companies, traditionally light on R&D, can't do, which is develop a proprietary, new chemical entity drug from discovery (at Apogee) to commercialization in multiple indications, with clear blockbuster potential.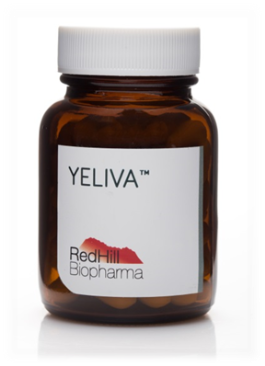 Additionally, there is more overlap between YELIVA™ which is both an anti-inflammatory and an oncology drug, and drugs like RHB-104, RHB-105 and Bekinda™ than investors may suspect. For example, RHB-104 is in a Phase III study for the treatment of Crohn's disease, a chronic GI inflammatory disease. The majority of the 21 patients treated in the solid tumor Phase 1 study had gastrointestinal cancers, including pancreatic, colorectal, and cholangiocarcinoma cancers. RHB-105 is designed to be the new standard of care for H. pylori infection, a bacteria that the International Agency for Research on Cancer classified as a Group I carcinogen in 1994. It is now universally accepted that H. pylori infection causes chronic gastritis and peptic ulceration, and is the strongest risk factor for the development of gastric cancer (
Lamb A, et al., 2013
).
The markets that RedHill plans to target with YELIVA™ are significant. According to the U.S. National Cancer Institutes 2015 Facts & Figures, there are approximately 220,000 new cases of prostate cancer each year. Gastrointestinal cancer, including stomach and colon cancer, will impact approximately 290,000 new individuals in the U.S. each year. Approximately 81,000 will develop lymphoma and 27,000 myeloma. Although I believe it is too early to start projecting peak sales of YELIVA™ ahead of substantial human clinical data, I'm comfortable saying that approval of a first-in-class, new chemical entity for solid tumors or hematological malignancies is a potential blockbuster drug.
This is my fourth article on RedHill Biopharma, and I continue to see meaningful value creation in the company's pipeline. I see now why quality institutional investors like Orbimed, Broadfin, Special Situations, Visium, Longwood, Sabby, Rosalind, Fred Alger, etc... have
established large positions
in the name. I think that a drug like YELIVA™, supported by significant non-dilutive funding from SBIR/STTR, BARDA, DoD, and OOPD grants, along with $64 million in cash as of September 2015, is just the kind of drug that biopharma investors should get excited about.
------
BioNap is party to a services agreement with the company that is the subject of this report pursuant to which BioNap is paid five thousand dollars per month by the company in exchange for the provision of research reports, investor relations services, and general consulting services.

Please see additional information on our Disclaimer.