Please see the BioNap, Inc. Disclaimer
I am continuing my analysis of RedHill Biopharma Ltd (RDHL), a specialty biopharmaceutical company with several orally-administered drug candidates in late-stage clinical development for the treatment of various gastrointestinal and inflammatory diseases. The company is highly intriguing to me because of the depth of their pipeline in GI disorders with unmet medical needs, including inflammatory bowel disease and gastroenteritis, and the strength of the balance sheet relative to the current market capitalization. Specifically, the company exited September 2015 with $64 million in cash and investments, representing almost 40% of the total market value. The product pipeline includes three Phase 3 assets, several Phase 2 assets, an interesting mid-stage oncology pipeline, another mid-stage asset at partner Salix Pharmaceuticals, and one approved drug in Europe.
RedHill's clinical-stage pipeline (shown below) is impressive. I encourage investors to view my previous work on the company, which covers Phase 3 RHB-104 for the treatment of Crohn's Disease >>
HERE
<< and Phase 3 RHB-105 for the treatment of
H. pylori
infection >>
HERE
<<.
My article today will cover Bekinda™ (also called RHB-102), an oral, extended-release, once-daily formulation of the antiemetic drug ondansetron. The company is currently developing Bekinda™ in a Phase 3 clinical study for gastroenteritis and gastritis (the "GUARD" study), with data expected in the second half of 2016. The company is also planning to initiate a Phase 2 study with Bekinda™ in irritable bowel syndrome with diarrhea in the near future, and has submitted a marketing application with Bekinda™ for the prevention of chemotherapy and radiotherapy-induced nausea and vomiting in the EU.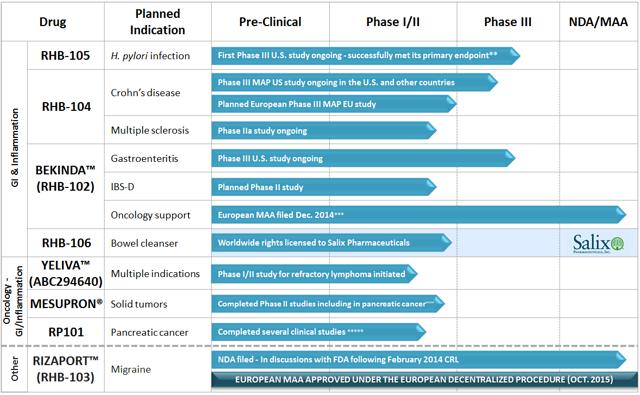 Background on Ondansetron
Ondansetron is a selective serotonin 5-HT3 receptor type antagonist. The drug was originally approved in the form of an intravenous administration in January 1991, and sold under the brand name Zofran® by GlaxoWellcome Inc. for the prevention of chemotherapy and radiation-induced nausea and vomiting, and prevention of postoperative nausea and vomiting. In December 1992, Glaxo received approval for the first oral formulation of the drug. Zofran® saw significant use in the prevention of nausea and vomiting, largely due to the drug's benign safety profile and general utility in preventing emesis. The patent expired in December 2006, but not before the drug achieved peak sales that year of approximately $1.7 billion.
As noted above, the drug prevents binding of serotonin to the 5-HT3 receptor, particularly those found in the vomiting center (VC) and chemoreceptor trigger zone (CTZ) located in the fourth ventricle of the medulla oblongata outside the blood-brain barrier. Enterochromaffin cells in the gut are one of the body's largest reservoirs of the neurotransmitter serotonin. The release of serotonin by these cells in the gastrointestinal tract is often triggered by certain types of anesthesia used during surgery or by chemotherapeutic agents. The binding of serotonin to the 5-HT3 receptor located on vagal afferent nerves in the gut causes stimulation of the emetic center (VC & CTZ) that can lead to emesis. By blocking the binding of serotonin to the receptor, ondansetron prevents activation of emetic center and reduces incidence of nausea and vomiting. Importantly, the drug has little to no off target impact on dopamine, histamine, adrenergic or cholinergic receptor activity.
Since approval in 1991, several researchers have published quantitative systemic analyses of the drug in peer-reviewed journals. For example, researchers out of the Oxford Radcliffe Hospital in the U.K. looked at data from 53 different clinical trials enrolling nearly 13,000 postoperative patients. Their work published in Anesthesiology in 1997 found for every 100 patients receiving an adequate dose of ondansetron, 20% will not vomit who would have vomited had they received placebo. The authors also found that of these 100 hypothetical patients, 3% will develop temporary elevated liver enzymes and 3% will have a headache who would not have had these adverse effects without the drug (
Tramér MR, et al., 1997
). A year later, researchers out of Torrecardenas Hospital in Spain published similar results in the Journal of Clinical Anesthesiology. The authors looked at 48 clinical trials in just over 12,000 postoperative patients, and concluded that ondansetron prevents incidence of vomiting in about 17% of high-risk patients, with 1% relative increase in risk of headache versus placebo (Figueredo ED, et al, 1998). These data compared closely with the data presented in the Zofran® prescribing information (i.e. the Phase 3 data conducted by Glaxo) showing 16 mg ondansetron per day prevented emetic episodes in 126 of 253 (50%) patients vs. only 79 of 250 (32%) of the patients on placebo, or a numerical 18% reduction in incidence.
In radiotherapy induced nausea and vomiting, the effects of ondansetron are more impressive. The Zofran® Phase 3 data shows 37 of 38 (97%) of individuals receiving 8 mg ondansetron TID remained emesis free following radiotherapy vs. only 20 of 45 (45%) of individuals taking metoclopramide.
Bekinda™ - An Improved Formulation
The recommended dose of ondansetron in prevention of radiation-induced nausea and vomiting is one 8 mg tablet one to two hours before therapy, then 8 mg orally every eight hours for five days post-treatment. For chemotherapy-induced nausea and vomiting, 8 mg twice-daily is the recommended dose. Peak plasma concentration occurs approximately 90 minutes following oral administration. The half-life is approximately 3-4 hours (
source
).
RedHill Biopharma is developing a once-daily oral formulation of ondansetron designed to provide ease of use and greater patient compliance. The graph below shows the pharmacokinetic comparison between Zofran® (ondansetron) and RedHill's Bekinda™. Bekinda™ offers virtually identical onset of action to the standard 8 mg Zofran® tablet, but with superior TMAX and AUC that allows for once-daily dosing. The data also shows low coefficient of variance among patients.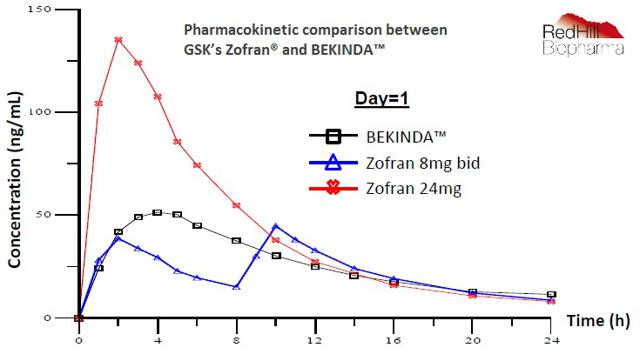 There is a clear inverse relationship between the frequency of dosing and rate of compliance. For example,
Claxton AJ, et al., 2001
found that mean dose-taking compliance was only 79% ± 14% for once-daily oral medications. Patient compliance rates declined to 69% ± 15% for twice-daily dosing, 65% ± 16% for three-times daily dosing, and only 51% ± 20% for four-times daily dosing (see graph below). The author found that consistency of dosing-time was also low, with only 59% ± 24% of patients reporting taking their medication at the same time each day for a once-daily dosing regimen. More frequent daily dosing was associated with even lower compliance rates. Inconsistent dosing can lead to lower quality outcomes for patients, increased side-effects, or potential dangerous misuse of the medication. Bekinda™ should result in superior outcomes for patients by improving patient compliance and reducing variability of dose.
Compliance of Daily Dosing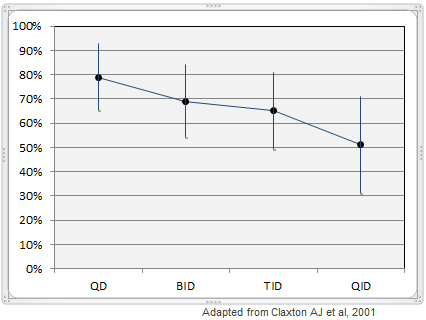 Indication #1 - Gastroenteritis & Gastritis
RedHill Biopharma is currently engaged in a Phase 3 clinical trial with Bekinda™ for the treatment of gastroenteritis and gastritis (the "GUARD" study). The Phase 3 GUARD study (
NCT0224639
) is randomized, placebo-controlled, registration study designed to compare Bekinda™ to placebo in 320 patients age 12 to 85 years old with acute gastroenteritis or gastritis that have presented to an emergency center and have vomited at least twice in the four hours preceding consent into the study. The primary endpoint is the proportion of patients without vomiting and without rescue medication from 30 minutes post dose over the subsequent 24 hours. Patients are currently enrolling, with up to 30 centers are looking to participate in the study. Top-line data are expected mid-to-late 2016.
Gastroenteritis (inflammation of the stomach and small intestine) and gastritis (inflammation of the stomach) are often simply referred to as "stomach flu". The primary symptoms are vomiting and diarrhea, both of which can lead to additional symptoms, including abdominal pain and dehydration. Although colloquially referred to as "stomach flu", gastroenteritis is not caused by the influenza virus, as influenza only attacks the respiratory system. Instead, the two most common culprits of gastroenteritis are the rotavirus and norovirus. Other viruses that may cause gastroenteritis are the astrovirus, sapovirus, and enteric adenovirus. Gastroenteritis can also be caused by bacterial or parasitic infection, in which case symptoms will also likely include low-grade fever and muscle ache, with the most common pathogens being enterotoxigenic
E. Coli
,
Clostridium difficile
, salmonella, and giardia.
Diagnosis is primarily through physical examination, although rapid diagnostic stool kits do exist that can detect both the rotavirus and norovirus. There are no approved treatment options for viral gastroenteritis. For bacterial gastroenteritis, physicians might prescribe an antibiotic, but since symptoms are usually self-limiting and main complication is severe dehydration, most physicians simply recommend drinking plenty of fluids. Since gastroenteritis is spread by fecal-to-oral transition, primary prevention is washing your hands. Despite this simple preventative measure, the U.S. Center of Disease Control and Prevention estimates gastroenteritis results in approximately 65,000 hospitalizations and 900,000 clinic visits in the industrialized world per year (
Patel MM, et al., 2008
).
Patients with severe dehydration are treated with intravenous fluids. Patients presenting to a physician's office or emergency room with severe vomiting or diarrhea are often given generic ondansetron off-label. For example, a paper by
Mehta S, et al., 2006
, found that 61% of physicians administer antiemetics to patients presenting to a clinic or emergency department with acute gastroenteritis. Bekinda™, with an FDA approved indication for acute gastroenteritis, could see use at or above the level of the off-label generic.
The efficacy of ondansetron in preventing vomiting in patients with gastroenteritis has been well documented. For example, a study conducted by
Freedman SB, et al., 2006
and published in the New England Journal of Medicine, perhaps the country's most prestigious medical journal, looked at 215 children age six months to 10 years old presenting to a pediatric emergency department with gastroenteritis and dehydration, and randomized half to ondansetron and the other half to placebo. The investigators found that children randomized to ondansetron were less likely to vomit, 14% vs. 35% (40% relative risk reduction), vomit less often, 0.18 vs. 0.65 episodes per child (p<0.001), and be less likely to require intravenous rehydration, 14% vs. 31% (46% RRR), than children on placebo.
A study by
Reeves JJ, et al., 2002
enrolled 172 patients (average age 5.3 years) at Children's Hospital Boston, randomizing 54 to ondansetron and 53 to placebo. After drug administration, 38 (70%) of the 54 patients in the ondansetron group had complete cessation of vomiting compared with only 27 (51%) of the 53 patients in the placebo group (61% RRR). I found several more randomized trials and meta-analyses are available on PubMed, all of which concluded that use of ondansetron reduced the risk of additional vomiting and the need for intravenous rehydration in the pediatric or adult emergency room setting.
As noted above, RedHill Biopharma is currently engaged in a Phase 3 clinical trial with Bekinda™ for the treatment of gastroenteritis, with data expected during the second half of 2016. This is a one-to-one randomized trial in 320 patients. My search of PubMed suggests a 42% ± 7% chance a patient in the placebo group will have vomiting, and that the Bekinda™ group should come in only around 22% ± 8%. Assuming 80% power to detect a statistical difference among the two groups, I see the GUARD study as highly likely to achieve its primary endpoint. Below is a snapshot of two statistical analysis graphs I created by inputting the above variables showing (A) GUARD is over 95% powered at current enrollment and (B) statistical significance at p<0.05 is highly likely based on a range of inputs for proportions using data pulled from the literature.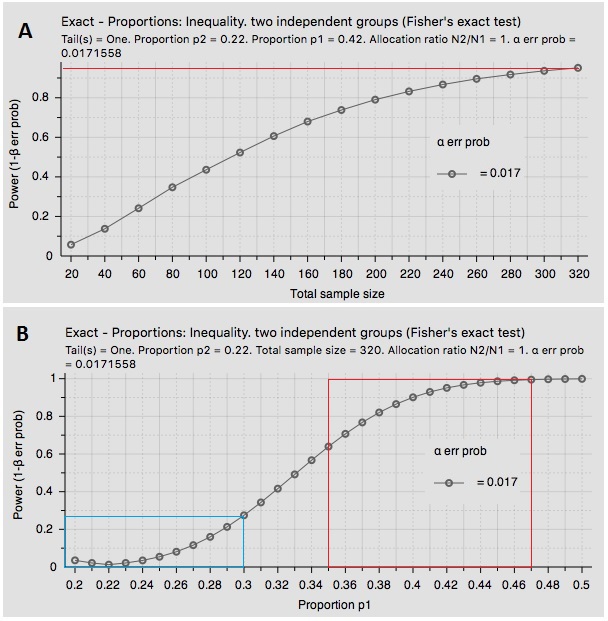 Indication #2 - Irritable Bowel Syndrome with Diarrhea
Irritable bowel syndrome (IBS) is a complex chronic disorder that primarily affects the large intestine. Also known as spastic colon, there is no specific organic cause of IBS, although excess mast cell activation is believed to play a central pathophysiological role in the disorder. Environmental triggers, stress, changes in diet, or infection may bring on episodic flares. The primary symptoms of IBS are cramping, abdominal pain, bloating, and gas. Patients will also typically experience altered bowel function, which predominately manifests as either diarrhea (IBS-D) or constipation (IBS-C). Severe cases of IBS may lead to extreme weight loss, malabsorption, bloody stool, colitis, dysbiosis, or chronic bacterial overgrowth. Some studies indicate up to 60% of people with IBS also have a psychological disorder, typically anxiety or depression.
There is no known cure for IBS, although treatment options do exist. For mild-to-moderate disease severity, most physicians advocate for dietary adjustments (e.g. increase in soluble fiber intake) and psychological interventions (e.g. reduced stress, antidepressants). However, for more severe cases laxatives are prescribed for IBS-C and antidiarrheal agents are prescribed for IBS-D. For patients with abdominal pain and diarrhea, opioids such as loperamide and codeine are commonly used. In the most severe cases of chronic abdominal pain, opioids such as morphine and oxycodone are used. These agents are highly effective in reducing pain but have significant potential detrimental side effects such as constipation - which may actually reduce incidence of diarrhea in IBS-D patients - and the risk of long-term addiction or abuse / misuse.
RedHill Biopharma is currently preparing to initiate a Phase 2 clinical study with Bekinda™ for the treatment of IBS-D in the very near future. The scientific merits of 5-HT3 receptor antagonism for the treatment of diarrhea are well documented in the literature, as is the use of ondansetron for IBS-D in previous randomized, double-blind, placebo-controlled trials. However, before I get into the literature, it is interesting to note that in the Zofran® prescribing information only two adverse reactions are listed with frequency above 1%, headache at 11% and constipation at 4%. Approximately 30 million people in North America have IBS (
Saito YA, et al., 2002
), with distribution between IBS-D and IBS-C being about equal (WebMD), it is clear that medications must be tailored to fit the predominant symptoms, including pain, constipation or diarrhea because Bekinda™ will not be an ideal fit for every patient with IBS.
That being said, selective 5-HT3 receptor antagonism as a mechanism to prevent diarrhea has been investigated and validated in several pilot studies. For example, researchers from the Mayo Clinic investigated the use of ondansetron in a small pilot study (n=14) and concluded that the drug significantly improves stool consistency; although no statistical difference was seen in stool frequency or stool weight (
Steadman CJ, et al., 1992
). A separate meta-analysis of six large, multicenter, randomized, placebo-controlled trials conducted by a separate group of researchers at the Mayo Clinic found that alosetron, another potent 5-HT3 receptor antagonist, provided relief for symptoms of IBS-D by almost 2-1 over placebo (
Cremonini F., et al., 2003
).
However, the strongest rationale for the use of ondansetron for the treatment of IBS-D comes from a recent randomized clinical trial published in the International Journal in Gastroenterology by researchers out of Queens Medical Centre in the U.K. The five week cross-over design study enrolled 120 patients with Rome-III criteria IBS-D and randomized between 4 mg ondansetron TID vs. placebo. The results show that ondansetron significantly improved stool consistency (-0.9, p<0.001), and patients taking the drug experienced fewer days with urgency (p<0.001), lower urgency scores (p<0.001), reduced frequency of defecation (p=0.002), and less bloating (p=0.002) compared to placebo. IBS symptom severity score fell more with ondansetron than placebo (83% ± 9.8% vs 37% ± 9.7%, p=0.001), as did patient reported symptom relief (65% vs. 14%) (
Garsed K, et al., 2014
).
The primary data from the paper is presented below, and shows the clear effects of ondansetron when compared to placebo in improving stool form (note: a BSF score of 4 is considered "normal stool"). The effect was apparent in patients with IBS-D whether they started on ondansetron or crossed-over to ondansetron following initial randomization, with virtually no placebo effect. The graph also shows rapid onset of action (less than one week) and the loss of effect on discontinuing therapy. The Garsed et al., paper is very powerful support for RedHill's Bekinda™ in the IBS-D indication. This should help investors gain confidence in RedHill's Phase 2 program.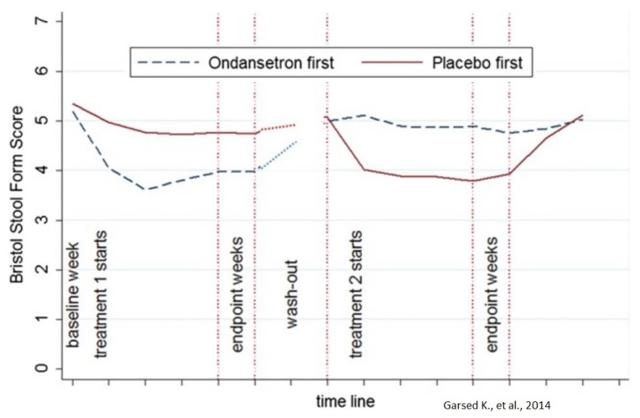 Indication #3 - Oncology Support
The final potential indication for Bekinda™ is in oncology support, or more specifically, prevention of chemotherapy and radiotherapy-induced nausea and vomiting. This is the approved indication for Zofran®, so I will not cover the scientific merits of RedHill's approach here, instead pointing investors to the FDA and EMEA approvals for the drug back over two decades ago. As noted above, RedHill has conducted several pilot clinical studies with Bekinda™, including two comparative bioavailability clinical studies and two pharmacokinetic studies.
Management submitted a marketing authorization application (MAA) to the UK MHRA in December 2014 (
see release
), and expects to obtain regulatory feedback from the U.K. during the first half of 2016. The impetus for use of Bekinda™ over genetic ondansetron is the once-daily dosing and improved pharmacokinetics. Above I noted the Claxton et al. research from 2001 that found mean dose-taking compliance for three-times daily administration is only roughly 65%. Nausea and vomiting are significant side effects to both chemotherapy and radiation therapy, and could cause patients to either push-off doses or skip dosing of a potentially life-saving medication. A paper by
Saini SD, et al., 2009
found that patients taking once-daily medications had 22% to 41% more adherent days compared with patients receiving thrice-daily dosing, and that significantly superior patient compliance improves ability to withstand treatment, thus increasing adherence to chemotherapy / radiotherapy.
For this indication in the U.S., recent feedback from management's meeting with the FDA indicated that additional clinical data is required to support a U.S. NDA with Bekinda™ for oncology support indications under the 505(2) regulatory path. Further development for oncology support indications will be decided as data from the Phase 3 GUARD study in gastroenteritis and gastritis and the Phase 2 IBS-D data become available, and once RedHill receives additional regulatory feedback from the UK's MHRA with regard to the European MAA that was filed in December 2014 for oncology support indications, noted above.
Conclusion
Bekinda™ looks to have very interesting market potential for the treatment of some common gastrointestinal disorders, including gastroenteritis and gastritis and irritable bowel syndrome with diarrhea. The scientific merits of both indications are rooted deep with support from the literature and the once-daily administration should help improve patient compliance and convenience to dose.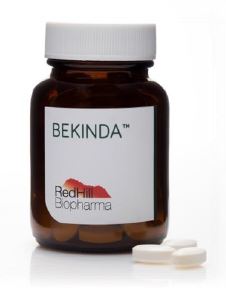 Gastroenteritis affects an enormous number of Americans each year. In 2013, the U.S. CDC estimated 21 million people in the U.S. get infected with norovirus and develop acute gastroenteritis each year. The norovirus alone accounted for 14,000 hospitalizations, 281,000 ER visits, and 627,000 outpatient visits between 2009 and 2010. And although the norovirus is the number one cause of acute gastroenteritis in the U.S., it still only accounts for 21% of the cases (
source
). Doing the math, one can back-calculate that there is likely 100 million episodes of acute gastroenteritis in the U.S. each year. With modest pricing and good formulary coverage, Bekinda™ looks like a $250 million opportunity in the U.S., with another $200 million for Europe once approved.
The opportunity in IBS-D looks equally, if not more attractive. Some 30 million Americans suffering from IBS, with at least half having diarrhea as the predominant symptom. Physician acceptance of Bekinda™ for IBS-D is a market that will need to be developed by RedHill or its commercialization partner, but it is clear that awareness for 5-HT3 receptor antagonism and familiarity with Zofran® is high amongst gastroenterologist.
Investors should not discount the IBS market; it is large and underserved. For example, linaclotide (sold in the U.S. as Linzess®) will post over $500 million in sales in 2015 for Ironwood / Actavis, and independent research firm Decisions Resources thinks linaclotide will post sales of $1.2 billion at peak in IBS-C (
source
). The IBS-D market is equally as large and attractive as IBS-C.
It is also clear that use of ondansetron for the prevention of chemotherapy or radiotherapy-induced nausea and vomiting was a substantial market for Zofran® and that a once-daily formulation in Bekinda™ should see market share gains vs. the generic if approved for oncology support. EvaluatePharma estimated the worldwide size of the 5-HT3 receptor antagonism market in 2014 was nearly $1 billion, putting potential sales for Bekinda™ at another $250 million with 25% market share gains.
This is my third article on RedHill Biopharma, and I continue to see meaningful value creation in the company's pipeline. I see now why companies like Orbimed, Broadfin, Special Situations, Visium, Longwood, Sabby, Rosalind, Fred Alger, etc... have
established large positions
in the name.
Although a drug like Bekinda™ may not have the ultimate upside to a drug like RHB-104 for the treatment of Crohn's Disease, the hurdle to approval seem very reasonable. As does the cost to develop, especially in the light of the company's current $64 million cash balance with no debt. The evidence also seems to support the U.S. FDA's amenability to the product, as the whole gastroenteritis and gastritis program was triggered by a specific suggestion / request from agency during a face-to-face meeting in early 2014. Management believes the single GUARD study may be sufficient for approval, pending the outcome of the trial. There are no 5-HT3 antagonists approved for gastroenteritis, so RedHill or its commercial partner could have a nice marketing advantage for Bekinda™ if approved in 2017, with nice upside potential in follow-on indications such as IBS-D.
------
BioNap is party to a services agreement with the company that is the subject of this report pursuant to which BioNap is paid five thousand dollars per month by the company in exchange for the provision of research reports, investor relations services, and general consulting services. Please see additional information on our Disclaimer.